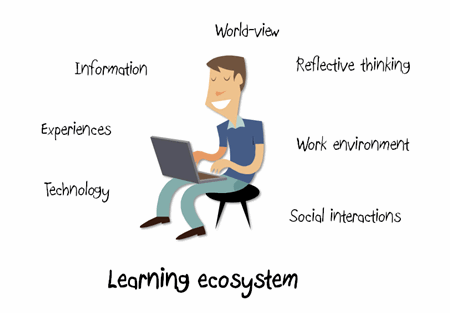 I have recently discovered The Rapid E-Learning Blog. There is a lot of great tips, tricks, and good information there to explore. Something that caught my attention today was the concept of "The Learning Ecosystem." When reading the article 3 Things to Consider when Building Your E-Learning Courses, the author, Tom Khulmann, began to talk about this concept of bringing our learning into our existence and what that looks like. He coined a great phrase. Check out his graphic that displays this concept. I recommend the article.
No tags
It is so very difficult to keep up with all the tools out there! Often, we feel pressure to try them all, or worse, utilize them all. This is not the case. Continually learning about new resources and applying them when they are relevant to what we are doing is what is important. Possibly even more important is keeping an open mind to the new things that come our way and offering our students both choices and autonomy with these tools. There is a brief categorized list of tools available on the Tech Tools page.
Having said that, here is a great list of tools put out by Go Ed Online. Check it out and see if there is anything that inspires you!
No tags
It all starts there and ends there doesn't it? The brain. So, are we teaching to it? Here are some tidbits I have come across:
According to the iNACOL paper Cracking the Code: Synchronizing Policy and Practice for Performance-Based Learning, Tom Vander Ark who writes the blog for Getting Smart.com, and Chris Lema who writes 252 Basics Blog…
"Customized Pathways" – these are bridges that we can create between formal and informal learning that promote mastery.
Genetic predisposition together with learning experiences create classrooms of individuals with a range of differences.
The more that education provides opportunities for self-assessment and progress monitoring, the more that students are prepared to utilize these skills in life
"Sticky Teaching" focuses on using big themes and reinforcing them so the concepts last
Check out this great infographic by Chris Lema!
No tags
Micheal Zimmer from Hopkins County Schools has put together a really nice list of tools complete with explanations and tutorial information. Check it out!!
No tags